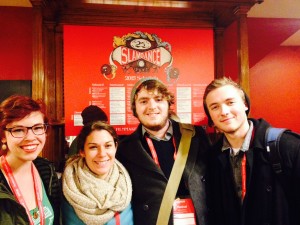 As a whole, the Sundance Film Festival was a really enjoyable experience.  It was really exciting to see new movies that had yet to premiere anywhere else.  Being able to listen to actors and directors talk during Q&A's after the films was really interesting and inspiring.  Just being in that setting around so many like-minded people who had an interest in film made the experience even more enjoyable.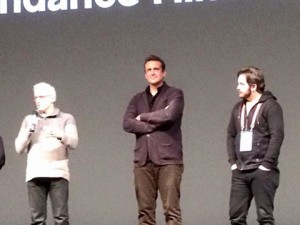 I found it interesting that after seeing so many actors and filmmakers walking around that it became a reminder that they are human beings as well.  It became an average occurrence that you'd just see Kevin Smith or Ethan Hawke or James Franco just walking around the city, which was a really neat experience.  The city itself was stunningly beautiful and it was exciting to see the mountains and skiers, a nice break from the typical countryside back home.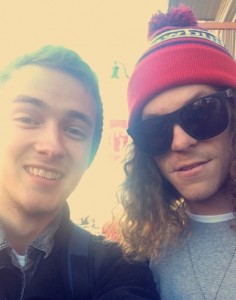 The locals were truly wonderful people and each shop along the strip was independently owned.  The "scene" was just really different down there and almost everyone seemed willing to hold a conversation and discuss movies. I swear I've never been able to passionately talk about independent films to an 80 year old anywhere besides Park City.  I was even offered free tickets to a film in Salt Lake City just because the ticketholder thought we were all good kids.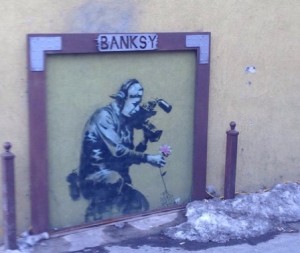 Along with the cool shops and nice people, the weather played out well and it was sunny throughout almost the whole trip.  It was also nice being able to experience the trip on our own schedules instead of having everyday planned out for us.  We were able to see the movies we wanted to see and we could experience Park City individually whenever we had free time.  While there, some of us were also able to find some reasonably priced and good restaurants, as well as numerous coffee shops, as caffeine became a staple part of the Sundance diet.  I wouldn't consider the lack of sleep a negative aspect of Sundance, but it definitely made it difficult to stay awake and feel energized while hopping from movie to movie all day.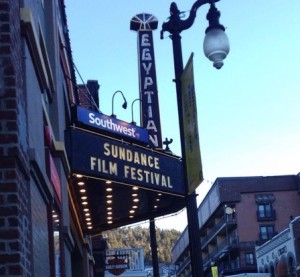 Upon my return to Bowling Green, I was bombarded with the question "How was Sundance?"  Ignoring my exhaustion, I attempted to answer the question, but found it more difficult to do so than I originally thought.  The Sundance Film Festival was equally amazing and frustrating, but overall worth the time and money spent to experience it.  The festival and week spent there had its ups and downs, but I'm glad I was able to be involved in this Study Away program.