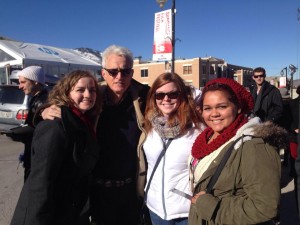 Senioritis hit me and in a BIG way. Last semester I lost motivation to go above and beyond, but rather, I chose to just scrape by. This film festival has invigorated me more than I could have anticipated.
While at Sundance, I had the opportunity to see one of my idols in person. I've loved Joseph Gordon Levitt since I was a small child, watching Third Rock From the Sun with my parents. The last few years have seen him create a new way to collaborate with artists, incorporating all media into a new piece of art. It all goes up on his website, which he has called HitRECord. At Sundance, he previewed the next step in HitRECord, and that's a TV show for the new channel Pivot.

Lessons Learned Panel with Joe-Gordon Levitt
Hearing him speak of his passion for HitRECord, and seeing the ferocity on his face reminded me of why I chose to study production in the first place. What's more, he spoke about his brother, Dan, who he started HitRECord with and who died in 2012. Teary eyed, he told us that Dan cared deeply about the process of bringing ideas to life and that regardless of the final cut, what matters is that someone has put a piece of themselves out to be seen.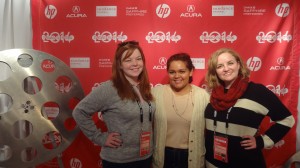 I have always struggled with nerves and fear of rejection in this business, but when one of your greatest inspirations says to disregard all that, you kind of want to. HitRECord is a supportive community of artists and I can't wait to get home so I can lend my talents to it in any way I can. Without this eye-opening and mind-clearing experience, I don't know if I would be as sure as I am about my aspirations. The fire is burning brighter than ever, and I have this class and the opportunity to see JGL to thank for that.